Happy Holidays, folks. Thanks to everyone who made 2009 such an unbelievable success in the CHEW camp. For me, things could not have gone any better than they went this year. Total dream come true, and a dream that I've been having for a long, long time. So, thank you. 2010 promises to be even bigger and better, as cliche as that is.
But first, 2009 wraps up with CHEW #7, which hits stores today. John and I are dedicated to making every issue better than the last, so hopefully we'll live up to that. We're both proud of how 7 came out, at least.
Notes and Press:
Newsarama
has a new interview with John and me, focusing a bit on what's next for CHEW.
IGN
names CHEW "Best Indie Series of 2009.
MTV Splash Page
names CHEW "Best New Series of 2009.
MTV
also did a nice feature, talking about why CHEW should be adapted to a movie, etc...
And then there's this: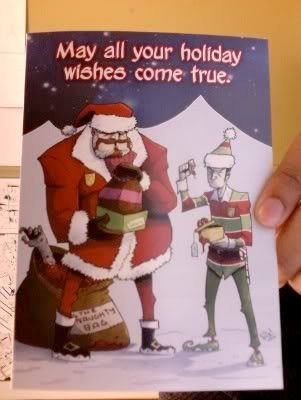 The Image Comics Christmas card. I was really flattered when the Image guys asked me to do it, and pretty happy with how it came out. I have 25 of these to spare. And the first 25 original art orders will get one. If you're interested in CHEW art, hit
chewcomicsales@gmail.com.
Catch you in 2010, suckas.
-Rob!