Meant to publish this as a Year-closing blog, but as a condition of one of my New Year's Resolutions (
"Thou shalt spend less time farting about online"
), I put it off until a bit later than planned. Excuse over. Here we go.
2008's looking to be a pretty busy year for me. Honestly, my busiest start to a year so far. Below are a few peeks at four projects on schedule. I've got a few preview/test pages for a couple projects in particular that I'm gonna have to wait to show off, but we'll get to that.
And yes... this is also a means of showing that I haven't been doing
nothing
in my spare time. So there.
1) Teddy Scares Vol.3 & 4 from Ape Entertainment.
Volume 3 should be hitting shelves in Feb./March-ish. I've got an 18-page story in that one, as well as an alternate cover. Rather hilarious story. Here's a peek: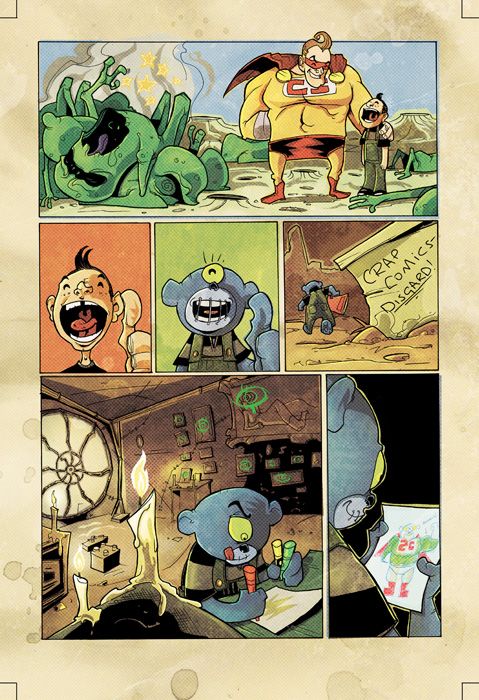 I've also got a ten-pager in
Teddy Scares Vol.4
(below), which I should be wrapping over the next couple weeks.

2) Jason Mason and the Ghosts He's Chasin' for Tokyopop.
This one's been in the works for a while, so it's kinda nice to see it moving along. We'll be debuting it as a 30-page online comic via the Tokyopop site in March/April. I'm ten pages into that one, and it's moving along nicely. Below's a quick peek at the first three pages. Call me a tease. You can also check out the original 5 test pages I did in early 07
here.
3) St. Spooky's School for Girls.
This is a fairly big new project that I'll be working on with writer
Tony Lee
. The publisher's a lock, but they're pretty bent on keeping the details of the project hush, so look for an announcement later. I
can
say that it is going to be distributed first in the UK, though, with a US release sometime afterward. As for a peek...

4) Shortbus Superstars!
Yep, still working on this sucker. Not saying anything other than "It will own your ass."
That's enough for now, I think.
I'd say that I'm gonna try to post more, but...you know.
And now in remembrance of 2007....my favorite quote of the year.

Peace,
Rob!